How To Write A B2B Newsletter
This post may contain affiliate links. Please read my disclosure for more info.
Whatever business you're in, it's important to have a way of keeping in touch with your customers.
You want to keep them up-to-date with all the info on your latest products and services, and for them to always have your business on their minds. When they have a problem to solve, you're the first person they think of.
One of the most effective ways of doing that is through an email newsletter.
In this blog post, I share practical tips on how to craft a compelling business to business (B2B) newsletter that your customers will want to read and engage with, and that will help you grow your sales. 
These tips are perfect for course creators, PLR sellers, business coaches, and anyone who is a business selling products or services to other business owners.
I'll take you through the main stages of crafting an effective email newsletter, and some recommended best practices for successful email newsletter creation.
The Best Email Service Provider
I have tried several email service providers, but Convertkit has been my favorite to date. I love its simple and easy to use interface, reporting, and subscriber tracking.
It is very quick to set up and learn. Convertkit has tons of tutorials to help you master all aspects of email creation.
Convertkit has a great free option up to 1,000 subscribers.
This allows you to start your email marketing journey with no cash upfront, and is an affordable option for business owners just starting out.
Tips for Writing a B2B Newsletter
After you have signed up with an email service provider, you are ready to write your first email.
Define Your Purpose And Goals
The first step you should take is to decide why you are sending emails for your business.
What do you want to achieve with your newsletter: an increase in sales? More website traffic? Referrals?
Knowing the newsletter's purpose will help you determine its content, format, design, and tone.
Identify Your Target Audience
Your newsletter should provide value to your readers by delivering insightful and relevant content that addresses their challenges and interests.
To help you reach this goal, you'll want to identify your target audience's demographics, interests and pain points, including the types of content they engage with and what they look for when purchasing products in your industry.
Use that information to tailor your content to their needs.
Plan And Craft Your Content
It's worth reiterating here that you should make sure the topics you choose are relevant to your customers' needs.
Ideally, your newsletter should include a mix of educational, promotional, and informative content.
Your newsletter's content should also reflect your brand's messaging and goals. Aim for a tone that reflects your brand personality and appeals to your readers.
Create A Compelling Headline
Possibly the most important part of your email is the headline. This is the first thing that your reader sees, so it needs to be written in a way that grabs the reader's attention and makes them want to open the email and read on. Use strong, emotive and action-driven headlines.
Crafting compelling headlines can be tough, but there are online tools such as ChatGPT that can get you started.
Learn more about how I use ChatGPT to make money online here.
Personalize Your Newsletter
Personalization makes a newsletter stand out in a crowded inbox.
Personalize your content as much as possible by addressing subscribers by name and segmenting your audience by different criteria such as freebies they have opted into, products they have purchased, and other segmentation you use for your business.
Segmenting can be especially effective, as it means you will only be sending emails about particular products or services to a particular demographic, increasing the chances of it being what that person is looking for to solve their problem.
Personalization increases the visibility, engagement, and click-through rate (CTR) of your newsletter.
Now that we know how to write a newsletter, let's look at some important design aspects.
Designing An Email Newsletter
The design and layout of your newsletter is just as important as the content.
A clean and simple design will make your newsletter visually appealing and easy to read. Use a clear hierarchy with headings, subheadings, and bullet points to enhance readability. Make sure that paragraphs are short.
Use your branding elements in the design of your newsletter. Include your logo, and maintain a cohesive look and feel each time you send a newsletter.
Use high-quality images and graphics.
Don't forget to optimize your newsletter for mobile devices, as an increasing number of people read emails on their smartphones.
Include a clear call-to-action (CTA) related to the goal you defined for your newsletter.
If design isn't your thing, take a look at this email newsletter template kit from Michelle Rohr and Maria Alejandra.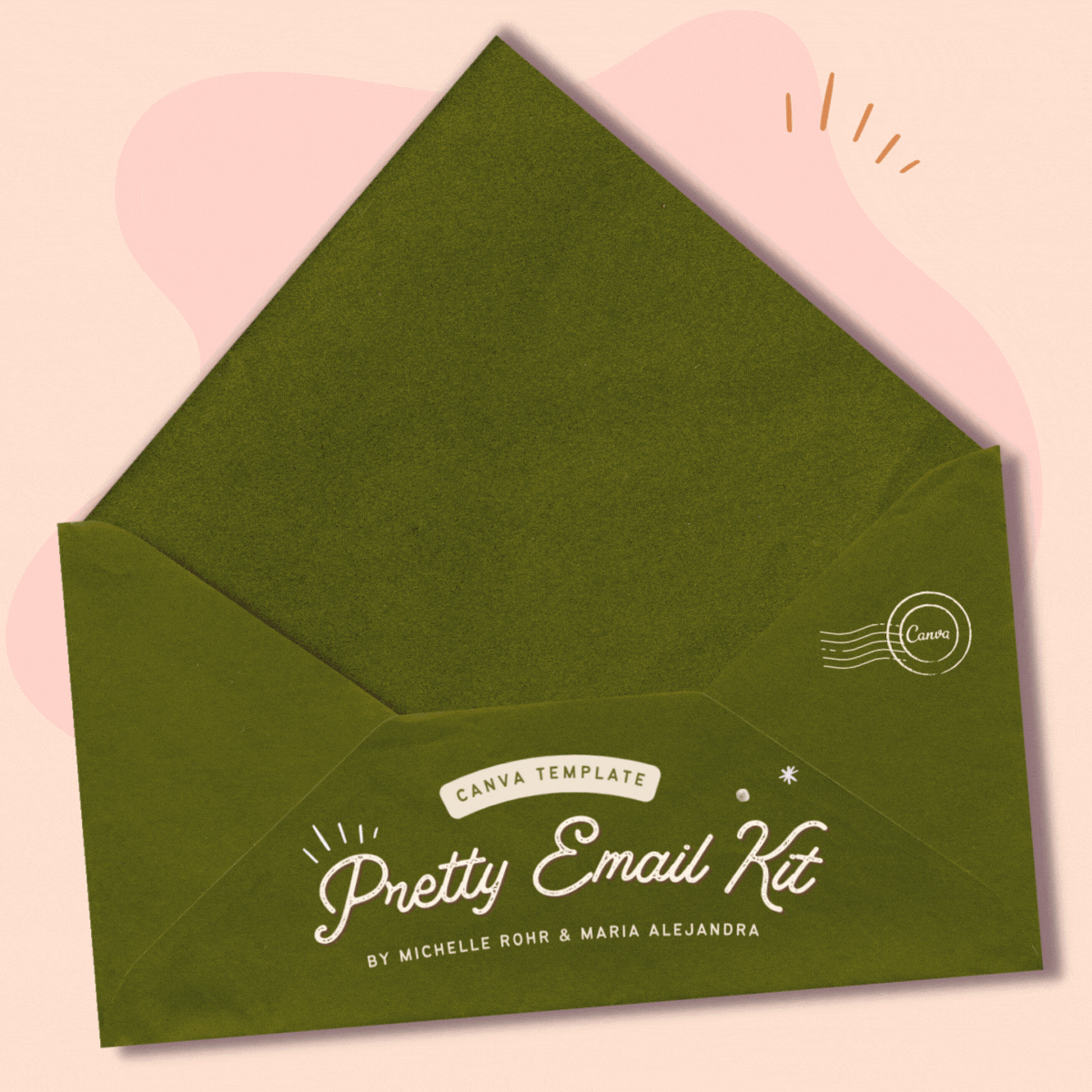 No more wasting time sweating over the design details! Instead of spending hours in procrastination mode, you can just use one of the templates included in the kit and add your specific branding and text.
The templates in this email newsletter kit create beautiful engaging email newsletters.
What to Write in a B2B Email Newsletter
Newsletters should be part of every business's marketing strategy, but I know that it can feel really daunting.
What should you write about? How long should your emails be? How personal should you get?
When I started writing B2B newsletters I was definitely overwhelmed.
That's when I came across Liz Wilcox and her Email Marketing Membership.
This was a total game-changer for me.
Liz is very popular in the email marketing world, and her $9 monthly membership provides email foundation training for beginners, weekly customizable newsletter copy templates, regular Q&A sessions, as well as guest expert sessions.
Her membership was a no-brainer for me and has been a huge help to me and my email marketing skills. 
Email Newsletter Best Practices
To sum up, a successful newsletter should:
Provide valuable information to the right audience
Have a scroll-stopping headline
Be concise and easy to read
Be visually appealing
Have a call to action based on your goals for the newsletter
Be optimized for mobile devices
Final Thoughts
Crafting an email newsletter doesn't have to be overwhelming.
In a world where we're bombarded with dozens of emails and newsletters on the daily, generating a B2B newsletter that stands out from others is so important.
If you keep your target audience in mind, provide them with valuable content, personalize your email, and optimize it continually, you're sure to see results.